Updates and Updates
In the absence of regular blogging, I present to you this series of random updates. We will then return you to your regularly scheduled silence. Do not adjust your TV.
Update: new site theme
madbean.com has dutifully been wearing the same theme I whipped up when I originally installed WordPress in 2005. It had really started to show its age, so I decided it was time for a cleanup.
WordPress themes serve two (related) functions: templates for turning data into HTML, and visual styling (CSS). While I wanted to improve the visual styling, my main pain-point was the HTML generation: my theme was a copy of a very old example theme, and couldn't support any of the new fancy WordPress features like Widgets. I went shopping for a new theme, but I couldn't find anything that really hit my two requirements:
Visually clean and simple, and with a CSS structure that allows some simple customization.
That it have a fluid, non-fixed-width layout. Fixed width is popular, but it is not what I want. Some of my posts are wide with code-samples, and if readers re-size their browser window, I want that to have an impact on the page.
I almost gave up with shopper fatigue, but then I discovered Sandbox. It supports all the fancy WordPress features, outputs richly structured HTML (lots of orthogonal CSS classes), and doesn't override any of the Browser's default visual style -- that is up to you.
So now we have what you see today (which is not perhaps what you might be seeing in the future). Here are screenshots of the three main themes madbean.com has worn over time:
2008: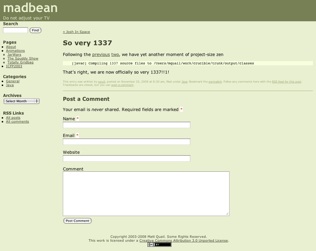 2005: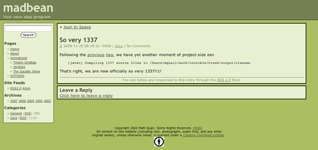 2004: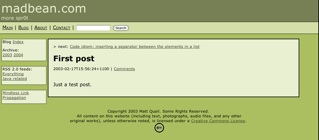 2003: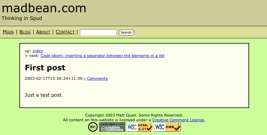 Update: offspring
Did you know I have a new baby son Benjamin? Now three months old, he joins Joshua (nearly four) as one of my main time sinks (which, truth be told, I don't mind so much).
Update: Wiki4k
I recently got my nerd game on and wiped up Wiki4k. This is a fully featured Wiki (with embedded HTTP server) delivered in a 4KB jar file.
Update: new abode
Having moved to Sydney then spending 12 months renting, we bought a nice little apartment withing walking distance of the city. The building has some very nice views of the harbour, but we are on the ground floor (sacrificing views for a large outdoor area).