JavaOne day one
Woi, and intense, exhausting, exciting day yesterday.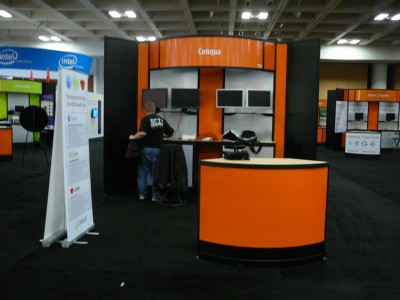 In typical form, we managed to setup our booth (above) and demos just moments before the Exhibitor's Pavilion opened. The first day on the floor is always a killer: 11:30am to 8:30pm. I was wise and kept up my sustenance over that period; an apple for breakfast and an Oreo for lunch.
It was my turn to be the media whore today. Lucky I had had a shave. First up was an interview with SYSCON-TV http://soa.sys-con.com/read/372918.htm (the title is a little OT, and I'm pretty sure I didn't use any of those exact words, but the gist is right). I was also interviewed by Frank and Bill for an Artima podcast. They both ask great questions and it was a lot of fun chatting to them.
Against one of the far wall in the Pavilion is one of those Sun datacenters-in-a-cargo-box thingies on the back of a huge semi trailer. High candy value, I'll try and take some internal photos tomorrow.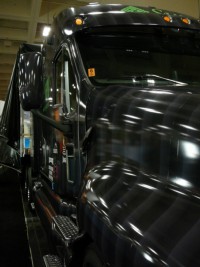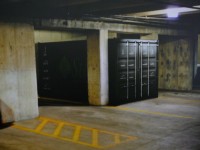 I managed to sneak away from the Cenqua booth to go see Neal Grafter's Closure technical session. He does a lot of pointing.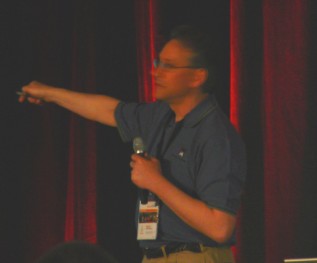 Neal's explanation of his Closure proposal is thorough and clear. I got up and asked him a question during the Q&A, but managed to completely dilute my real question with qualifications. I'll try and write more about that later, if I can get my head together.
At the end of the day I hit the Closure and Java Posse BOFs. The Closure BOF ended up as mostly a re-cap of the previous technical session. The Posse's BOF was great, though not all of us found it enthralling as others: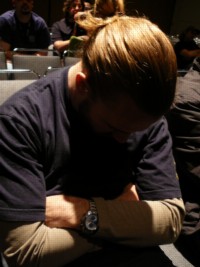 After that some of the people at the Posse BOF went to the pub for a few well-desereved coldies.
phew now starts Day Two...