JavaOne day 2 and 3: the booth and me
The last two days at JavaOne have been hectic.
Tech Sessions
I managed to get to two Technical Sessions this year (up from one last year).
The first was a talk about scaling applications using a shared heap, by Ari Zilka of Terracotta. There were some interesting ideas in there, so afterwards I went to talk to some of the Terracotta engineers at their booth. Wow, they sure have a compelling product. It makes me want to write an app requiring huge scalability just to try it out.
The second talk was Gilad Bracha's talk on invokedynamic and "hot-swappable" classes (two of the ideas for better supporting dynamic language in Java). It's clear Gilad is one smart cookie.
Night life
There are plenty of parties (if you can find them) after hours at JavaOne. But after 8 non-stop hours each day standing on your feet at the booth, you don't last long past midnight.
Last night we took our Guardian Angel out to dinner at Kuletos, a "shi shi" Italian restaurant. Great food, and the conversation was... interesting. We were welcomed by the hostess with "ah, you must be the four loud Australians", and we didn't disappoint. The more left unsaid, the better.
Tonight was the "After Dark" event at JavaOne. It was much better than last year, and it was a great idea to do the t-shirt hurling then as opposed to spread-out during the week. The party was much better than last year, and the quality of the beer much much better. The beer-quality must be proportional to the length of the beer-queues.
The Booth (photos)
Staffing the booth is a lot of hard work, but it can be rewarding, and it can also be a little fun. And we certainly aren't above making our own fun. This PDF is what is on the back of our pamphlet (and also on one of the big banners you can see in the images below).
We gave away some of our SCI t-shirts this year, but they weren't as popular as last year's t-shirt. One of the punters we gave a t-shirt to last year returned wearing it this year, which was worth a happy-snap (Conor on left, punter on right):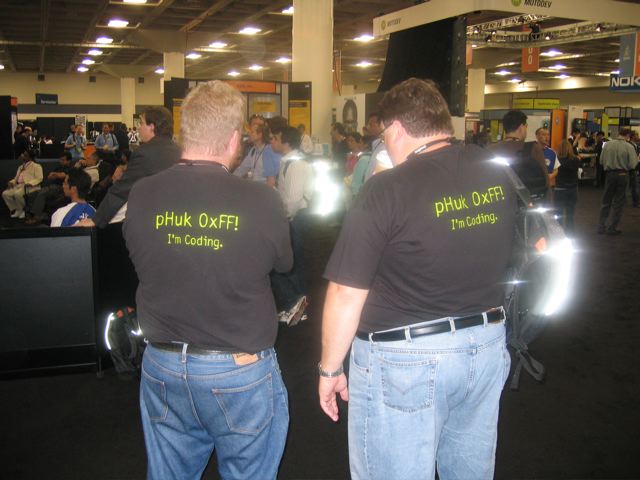 This is Conor and myself giving our best attempt at snaring unwary nerds (yes, very sad). Its also a good shot of the booth. A lot of money for very little space (we got in trouble for putting the banners outside our allocated "space", but managed to sweet-talk our way out of trouble).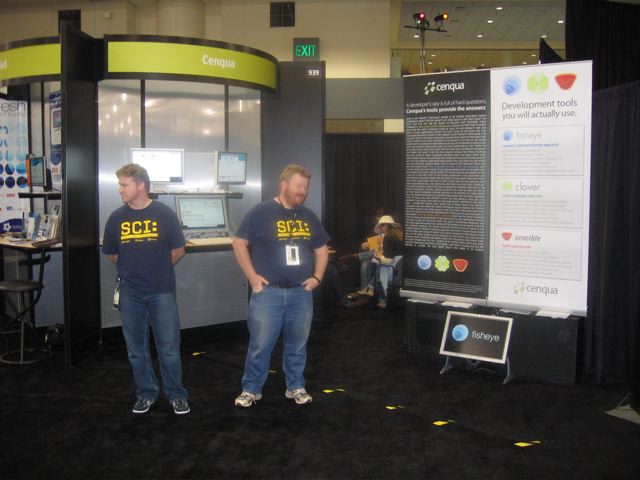 This is Pete, the smooze master, giving our shpeal to some of the local wildlife. Pete is exuding so much charisma the punters are actually glowing.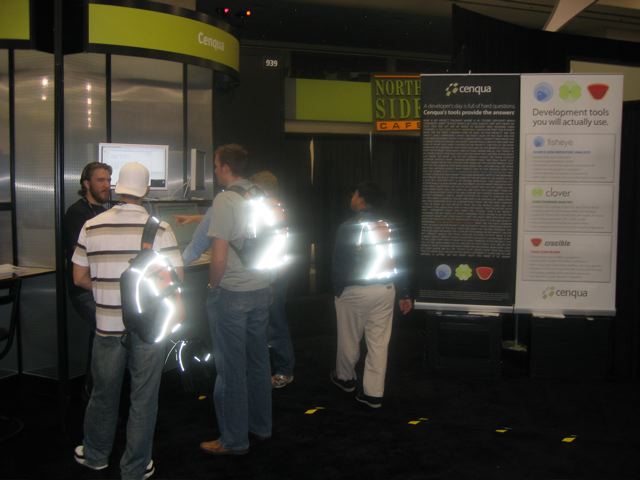 The End
After some shopping and sight-seeing tomorrow, we are off home. Phew because this is what it feels like at the end of JavaOne (also as a 2s AVI).